Where is my G-spot?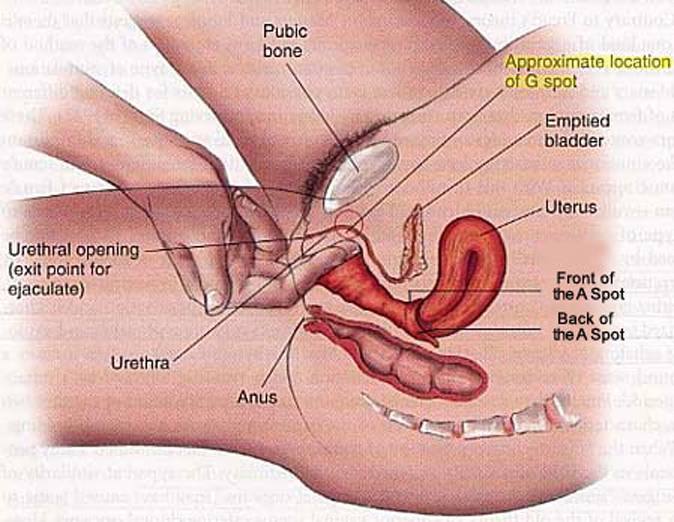 What do we know?
The G-spot was named after Ernst Grafenberg. A medical doctor and scientist known for developing the IUD. He was also well known on his studies for the urethra's role during orgasm. Grafenberg was a gynecologist in Berlin up until Nazi Germany took over. As Grafenberg was Jewish; he was arrested in 1937 and forced to leave his practice. He wasn't freed until 1940. Then he moved to New York City to continue practicing medicine.
A Dutch doctor, Reginer de Graaf, was the first to talk about female ejaculation and refer to "an erogenous zone in the vagina" that he linked to being similar to the male prostrate. The "zone" wasn't reported until Grafenberg and the term G-spot was later used to describe this zone.
The G-spot is said to be the bean-shaped area inside the vagina. Typically, found one to three inches inside along the frontal wall, lining with the urethra and bladder. Some believe that the G-spot is an extension to the clitoris. However, there is no evidence to prove one way or the other.
How can I find mine?
If you haven't found yours, but have been trying to; chances are you are trying to hard. It's not hard to find. It's hard to stimulate.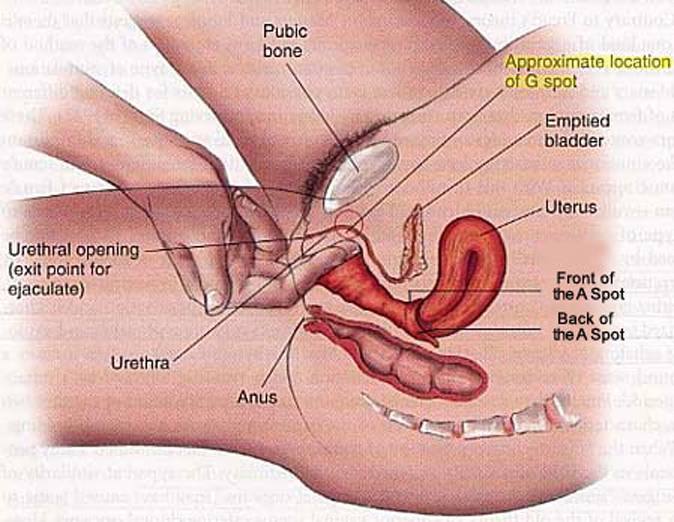 Squat on the ground so you can easily insert your fingers.
Face your palm upright
Dig around
Do you feel a patch of skin that feels different from the rest on the frontal wall?
That is your G-spot!! Really and truly, that is your G-spot! As I said, it's not hard to find. It's hard to stimulate.
How do I stimulate mine to have vaginal orgasms?
No two vaginas are alike. So, I might be able to rub lightly with my fingers to orgasm, but you might have to have firm, direct stimulation to orgasm. Have fun with this experience. Don't get frustrated because if you can't relax; orgasms aren't going to be easy. It's a learning experience that takes time.
I recommend getting a reliable G-spot vibrator or dildo. If you don't like the idea or inserting dildos or vibrators inside you; fingers can work. However, expect hand cramps and frustration. Dildos and vibrators are there as an aid to help masturbation and orgasms. They will improve your sex life! You will want to focus the object on the G-spot. Move it around until you find that spot. Trust me; you'll know it when you touch it. Just like the spot on your clit.
Remember: the vibrator was originally invented because doctors were treating hysteria with orgasms manually, but needed a faster method.
When I masturbate solely with my fingers, it takes me a good 45 minutes to achieve orgasm. When I use a toy, depending on the toy, it can take less than 10 minutes. Trust me, if you want to orgasm; you want a sex toy!
When first starting out with G-spot stimulation, my favorite item was the Sasha Grey Swell wand. Not curved. Very light wavy texture. And inexpensive. I did find I had to angle the dildo upright just slightly, but it was the first time I was able to stimulate my G-spot with a toy.
I really want to Squirt. Can I learn how?
Squirting is something that takes time! I didn't learn to squirt until after learning to stimulate my g-spot so well that it happened on accident. However, most women can't orgasm without clitoral stimulation. If you can't orgasm with just vaginal stimulation; combine it with clitoral stimulation. Don't worry about achieving ejaculation. When it happened to me, I wasn't trying for it or expecting it to happen at all. Don't expect it to happen at all and/or every time. Ejaculation is something that not all women experience. It doesn't mean there is something wrong with you or your partner. It just means you haven't achieved ejaculation. Give yourself time! Relax and stop stressing over it. Otherwise you will never get there.
———————-
By beckandherkinks url:https://beckandherkinks.com/2013/05/06/may-is-masturbation-month-where-is-my-g-spot/