History of Strap On Sex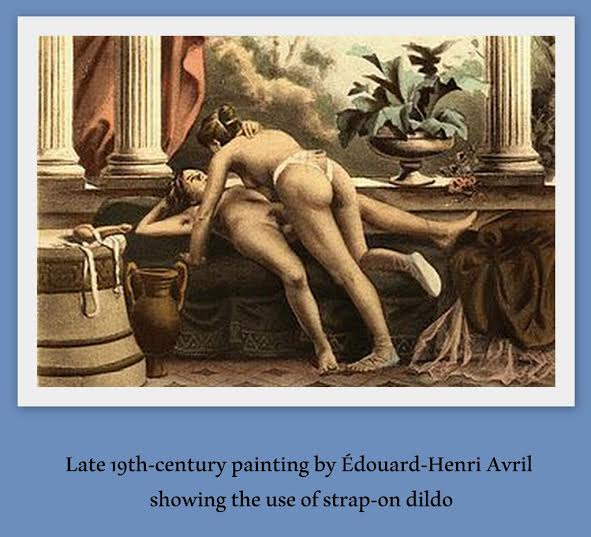 The release of 'Bend Over Boyfriend' by Dr. Carol Queen and the gang at Good Vibrations in 1998, seems to have sparked a strap-on phenomenon between heterosexual couples. With sales of strap-ons leading the way in the sex toy market, it's clear that strap-on sex is quietly being embraced by our society. But where does the love of strapping on a dildo come from? Is it a newly discovered sexual pleasure?
1. Throughout the ages there are signs and clues left behind of dildos being used to worship fertility gods, in rituals, for sex and were even used as baby mobiles in ancient Greece. Did anyone ever think to strap on one of these dildos? As with most of humanity's sexual history, the advent of strap-on sex is hidden within a few precious artifacts, ancient mythology, writing, and even paintings.
2. The oldest known relic that's believed to be a strap-on is from the Upper Paleolithic Period; c10,000 bc.
Amongst the many artifacts that appear to be dildos, a double 'baton' has been discovered with a hole in the middle. Archeologists theorize that this hole is for a strap to hold it to the wearer. There's also a Japanese wooden strap-on dildo that's been discovered.
3. Archeologists have also found an oriental double ended dildo carved from jade dates that dates back to the 10th – 13th century. Being made from Jade, it's clear that this was once a prized procession of the owner.
4.Ancient Egyptian mythology also gives a glimpse of strap-on pleasure with their belief that the ebb of flow of the Nile River was caused by Atum's (the god of creation) ejaculation. This sparked the ritualistic ejaculation of Pharaoh into the Nile River. The strength of the rain was thought to correlate to the strength of the pharaoh's ejaculation. It's believed that to ensure an abundance of rain, the pharaoh's wife would massage his prostate with a phallus while he sat on her lap and masturbated.
5. Clues of strap-on use are also found in murals decorating the walls of long forgotten brothels and bathhouses. In the Suburban Baths at Pompeii Italy, a mural has been unearthed which depicts a threesome with male anal penetration. Another mural at Pompeii that's especially exciting, shoa woman penetrating another woman as well as males with a strap-on according to Roman Scholar John Clarke. These murals seem to prove that sexual exploration as well as strap-on sex was embraced and celebrated in ancient Italy. It's no wonder the bathhouse were such a popular place.
6. Another ancient painting, from Athens and housed the Corinth Archaeological Museum, portrays a female figure dancing, while wearing a strap-on dildo and a tail, before a seated Dionysus.
It's believed that most ancient Greeks and Romans regarded women who took upon themselves the role of penetrating as having oversized clitorises to please their lover with. Roman mythology is also full of gender bending tales. Such as Hermaphroditus the son of Hermes (Roman Mercury) and Aphrodite (Venus) which is described as being both male and female. Also, Macrobius describes a masculine form of "Venus" (Aphrodite) who has a beard and male genitals, but wore women's clothing. Belief in this mythology survived through Greek and Roman cultures as seen is sculptures of Aphroditos, a female figure who pulls up her woman's clothing to reveal male gentiles.
Not only through artifacts and art, strap-on sex is also found within many ancient writings. Such as in the poetry of Herodas, a 3rd century bc Greek poet. Found on recycled papyrus that was used to wrap mummies one of Herodas' Mimes describes women going to a cobbler for dildos that were carefully stitched from scarlet leather and are described as being very soft, 'like the real thing'. He makes mention of straps but doesn't expand on their purpose.
In the writings of Seneca the Elder's Controversiae, a Roman writer, refers to lesbians as Tribades who use strap-on dildos. Likewise, Seneca the Younger, a Roman philosopher makes mention in Epistle Morales ad Lucilium of women penetrating men. Strap-on sex is also talked about in the Secret History of Prociopius; where Theodra, wife of the Emperor Justinian, is depicted as penetrating the 'hinder parts' of her male lovers.
7. Hibreas, a Roman Orator, is thought to have once said of Tribades, 'I first examined the male to know if it was natural or stitched on'. Likewise, Marcus Valerius Martialis, a Latin poet, portrays Flinene Pedica as a Tribate who sodomizes the boys more heated than a husband and 'fucks eleven girls or Boys in a single day'.
Also, in Affairs of the Heart by a Latin satirist, a direct reference to strap-on dildos is made.
"Therefore, if even men like you, Callicratidas, can find satisfaction in women, let us males fence ourselves off from each other; but, if males find intercourse with males acceptable, henceforth let women too love each other. Come now, epoch of the future, legislator of strange pleasures, devise fresh paths for male lusts, but bestow the same privilege upon women, and let them have intercourse with each other just as men do. Let them strap to themselves cunningly contrived instruments of lechery, those mysterious monstrosities devoid of seed, and let woman lie with woman as does a man. Let wanton tribadism — that word seldom heard, which I feel ashamed even to utter — freely parade itself, and let our women's chambers emulate Philaenis, disgracing themselves with Sapphic amours.
And how much better that a woman should invade the provinces of male wantonness than that the nobility of the male sex should become effeminate and the male play the part of a woman, as a woman can strap to themself these instruments and do a male as a male!"
If that isn't enough to paint a picture of what strap-on sex might have looked like in ancient times, we find even more examples. Such as in the writings of Hipponax, a 5th century Greek poet who describes a female using a strap-on on a Greek male. Also a tale vivid tale of strap-on sex is found papyrus which was recycled to wrap a mummy was recovered at Oxrhynchus in Egypt.
In Lydian tone she said, "Come hither, I will plug up your tight asshole." And she beat my egg sack with a sprig of lilac as if I were a satyr. I fell backwards, breathing heavy…"
8. A very similar passage occurs in the Satyricon of Petronius, which describes the sexual pleasures of the Emperor Nero Oenothea brought out a leathern dildo which, when she had smeared it with oil, ground pepper, and pounded nettle seed, she commenced to force, little by little, up my anus. The merciless old virago then anointed the insides of my thighs with the same decoction; finally mixing nasturtium juice with elixir of southern wood, she gave my penis a bath and, picking up a bunch of green nettles, she commenced to strike me gently all over my penis and belly below the navel.
A tale of female dominance is found within the ancient writing of Inanna and Ebih. Not only is a story of the goddess dominating Elbih recorded, but there are also descriptions of elaborate cross dressing transformation rituals.
 9. It's also found that strap-ons were seen in ancient Greek Theater where male only casts would wear gigantic phallus attached to their waists in satyr-plays.
No matter how obscure the history of strap-on sex remains, one thing's clear; strapping on a dildo isn't anything new. It's been enjoyed by both female and male lovers alike throughout the ages. From the brothels of Pompeii to the hidden sex chambers of Rome, sexual exploration has historically been embraced by celebrated. Given the popularity of ancient dildos and the acceptance of male anal pleasure, it isn't a far leap to conclude that strap-ons have played a role in sexual enjoyment throughout all history.