Happy MILF Day?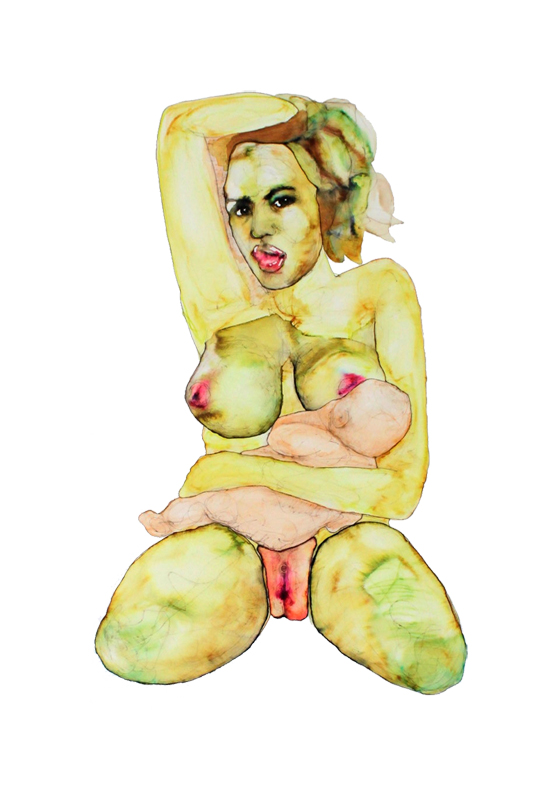 So, with Mother's Day behind us (that would be the second Sunday of May) but the month in which it falls still with us, perhaps we need to roll out a MILF Day? Or make plans for one beginning next year? I mean, we have special days for just about everything now, including "Talk Like a Pirate Day," so why isn't there a MILF Day? Or am I just slacking on my online searching game this month?
Anyway, maybe the last Sunday of the month, just to give folks a couple weeks for the next paycheck to roll around so they can spend the same amount of money they did on brunch, flowers and chocolates to instead buy and wrap an assortment of sex toys, lingerie and…chocolate sauce?
On the other hand, maybe we don't need MILF Day.
You know, if for no other reason that it's kind of a tacky term. The act itself is fine; younger men with older women isn't anything new. You can find plenty of examples of that historically. Not as many as younger women with older men, but that's probably mainly because men have called so many of the shots for so long. Mature women and maturing men may have never been any more or less popular than it is now, even though it may not have been as visible or as open in past generations.
But anyway, back to my point. Coining a term "mother I'd like to fuck" to differentiate porn featuring middle aged women from porn featuring the young'uns already suggests all kind of excessive objectification beyond the norm. We have plenty of sites touting TEENS or BARELY LEGAL…is it so hard just to say you have porn with middle-aged women, mature women, sexy soccer moms or whatever else?
Also, MILF sounds like a milk company and JIF got together to make a special peanut-butter-flavored dairy product.
So, I'll pass on embracing the whole MILF term.
Still, though, in this month of moms, can I ignore the siren call to discuss issues around young men having sex with women old enough to be their mothers? I could, but I won't, because sometimes taking the low-hanging fruit is actually the right thing to do. So, let's move on to the more popular term today, which isn't exactly a substitute or synonym for MILF but is certainly of a similar theme, and that would be the "cougar."
Until such time as women tire of being called cougars and decide to complain that they're being compared to animals (even though many of them embrace the term now), we'll go with that. Lots of groups seem to get tired of its titles eventually and rebel against them and demand new ones, but maybe this one will stick.
Because for goodness sake, this isn't a fad. We need to have some term, I guess, because the phenomenon will stay with us. Sure, it might be overly hyped and "all the rage" right now to be a cougar, claim to be a cougar or aspire to be a cougar, but that's not unlike any other trend. When it becomes big, everyone wants to jump on the bandwagon or knock the wheels off of it. Eventually, something new comes around to replace it in the hype machine. When the hype is no longer worth it, cougars won't be any more notable than breast men, leg men, swingers or furries. What? Furries still aren't mainstream? Oh, well. Scratch that one from my list, then.
There is a reason we have cougars and why we have had cougars for millennia, even before the time the label was slapped on human women and not simply on large predatory felines. It's because young men often lust after what they are familiar with. If you're a young man, chances are good that you've had some aunts (blood related or marriage related) to whom you've been attracted. Or other mom-aged relatives, close family friends, or neighbors. As such, there's a good chance that you will develop a hankering for such women, either at some defined point in life or as a lifestyle. Just like many people play with homosexual urges at some point or simply become homosexual altogether.
Also, there's something to be said for experience. Sure, you can learn how to make love with someone your own age, except the chances are that person will be just as inexperienced as you or close to it. You're both fumbling around unknown territory with, at best, book learning and unreliable instincts to guide you. It's a wonder any of us learn to have good sex under such conditions. If you hook up with someone older, you will stand a better chance of benefitting from loads of experience and having much better orgasms, I suspect.
This is probably largely the reason for older men/young women pairings too (familiarity/attraction to being around older men through so much of life and/or greater experience). Also, in ages (or even a few decades) past, it was hard for women to even think about success or wealth on their own, so you can add in the "sugar daddy" factor there to draw young women to older men traditionally.
Finally, there are cougars because Mother Nature is a cruel practical joker. Or God has a really evil sense of humor. Or both. If there are no spirits of the world or the universe, then clearly evolution is itself a sentient being with a mean streak toward humanity.
Why?
Because whereas it's pretty common for young men to be able to go at it sexually for hours and get their erections back quickly and hardly ever have that performance anxiety thing that's strong enough to kill an erection…it's not so common for older men. We end up needing more time to recover in a lot of cases and get a second erection, we may lose the one we have at the drop of a hat, etc.
Meanwhile, young women often need a lot of TLC down below before they can orgasm, which the young men often aren't interested in spending that much time on. And then women hit middle age and often experience a real spike in their libido. They start trying things sexually they never considered before, they want sex more often, they rev up more quickly, they come more quickly, they want it harder and faster, etc.
These aren't blanket rules, of course, but they match my general observations in life, so clearly they are all pretty common scenarios. And therein lies the cruel rub, like giving someone a handjob with sandpaper: If you are young and paired with a young person, there is a great likelihood there is a mismatch in your libidos and sexual needs and you need to adjust to the other person's needs (or be an asshole and ignore them). If you are older and paired with an older person, you have the same problem, except the gender roles kind of reverse.
So, naturally, at certain points in life, you may find the most satisfaction by pairing up with a person at the opposite end of the gender spectrum AND consenting age spectrum.
Thus, I understand the whole cougar thing. I think there's nothing wrong with it, to some extent it's natural and logical, and it works for lots of people. So, while we're paying attention to it a lot more now, it's kind of like other issues we've swept under the rug and ignored in the past—It's not that it didn't exist; we just didn't want to talk about it before now.
So, it's good to talk about it now. Hopefully we can get to the point soon where it's just no big deal.
But…and did you sense I had a "but" in here all along?…I do have certain things about the popularity of cougar life (and the older male equivalent, which doesn't seem to get a term except "cradle robber" as far as I can tell, unless you're well-off enough to be a sugar daddy) that bug me a little.
For one thing, I don't want a younger woman. Frankly, the older I get, the more that young adult women look like teenagers to me. I see a 20-something in a movie (porn or otherwise), and I can find her sexy and become aroused, but I wouldn't want to bed her in real life. Personally, I'd feel dirty doing that (no offense to the dudes who don't). As I've aged, the images I have in my mind of sexy women age a bit, too. It's not like young ladies are knocking down my door, but there have been many times young women have flirted with me, and it simply confounds me. It's flattering, but also makes me a little embarrassed.
So, in my life, I have a quandary. Given that the wife and I opened up our marriage a couple years back (even though we've done precious little to actually act on that openness sexually), I don't really know what to do. If I were flat-out single, I wouldn't have a problem finding a woman my age because it's still all-too-true that middle-aged women have the hardest time finding a partner (particularly of their own age, since older men can attract younger women so often). But I'm not single. I'm looking at times for some extra sex with someone who's not my wife. But close to my own age nonetheless.
However, among swingers, I feel like most of the women are looking for something younger or they're looking for another woman (of comparable age or, often, a younger one to be the "unicorn" in the fabled MWW three-way scenario that is all too hard to come by most of the time).
Likewise, my wife would love to find someone near her age to play with. Could she go cougar? No doubt. She's aging very gracefully, she's personable, she knows her way around the male body and she can be very sultry. Rawwwwrrrr!
But our son is 21 now. She doesn't want someone in their 20s because it's just going to make her think of the fact she could be the mother of the young man she's banging. It doesn't work for her personally. And to most men her own age or close to it, she's nearly invisible, because they're going after the younger asses a lot of the time.
So, I have nothing against cougar culture. Or cougar country. Or cougar couture or whatever. It's as valid as any other sexual proclivity that involves consenting adults. If you like it, I love it (on your behalf).
But in the end, it's just people having sex with other people, and it has it's messy points and its alluring ones.
Sometimes both at once.