Got MILF? How the Trend in Mommy Porn Continues to be a Thriving Trade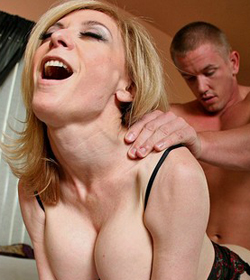 Back in the day when I was in the middle of puberty, I was intrigued by the allure of older women. My father had a roomer in those days. She was a woman from the Delta, curvy and plain speaking, so comfortable in her body. I couldn't get enough of her.
Six months after her arrival, she started meeting me in her rooms after school. She was a great teacher in the art of love. She was forty and I was in my mid teens. It was a revelation to see her fully undressed, a cram course in adolescent desire, and the classes were easy to learn from her.
One lesson involved the alchemy of sensual touch and stroking, while another showcased the many areas of the carnal kiss. One other class yielded the various sensitive zones of the breasts where an eager young mouth and fingers could lick and fondle to the teacher's delight, and yet another one featured the magic of oral sex, all done with sizzle and passion.
However, this older woman never bedded me. No penetration. I was disappointed in that, but those master classes of lust and love have carried me through life to this present day. I was a very good student.
Coo Coo Ca-Choo, Mrs. Robinson
Which brings us to the matter at hand: the current red-hot MILF porn trend, and why it continues to thrive. The concept of a sexual mentor tutoring a younger person, be it any sex, is age old. In fact, the MILF, the American Pie slang for "Mom I'd Like To Fuck," means that America has—at least partially—shaken off its Puritan cloak and grown up.
Witness the screen myth of Mrs. Robinson, the Desperate Housewives or the gal-pal quartet of Sex And The City. Maybe society has turned a moral and cultural corner in accepting the unbridled sexuality of older women without labeling them as cradle snatchers or loose women.
Nina Hartley, a porn superstar/columnist/sex educator, feels the graying of America has opened the door for this rising MILF trend. "The porn industry has endorsed the MILF films because Boomers are aging and want to see people who look like them—especially Boomer wives, who control what porn is brought into the house."
Hundreds of porn starlets audition and do films every year. A few—like Sasha Grey, Bree Olsen, Stoya, Kagney Linn Karter, and Tory Black—go on to mainstream success, but most vanish or sink without a trace, meanwhile, MILF performers are enjoying a stream of steady work, or a career renaissance.
Hartley reports that stars from the '80s and '90s may be older, but they're still working and hugely popular. "What makes for a great MILF is a good attitude—liking to have sex and letting it show—and being in shape for her age," she says. "And it's good to have a calm and mature mind."
There's very little physical difference to be seen in Nina Hartley, "then" and "now." She remains a looker and totally in demand as a MILF queen. Other former stars in the business have resurfaced and become fan favorites: Ginger Lynn, Rayveness, Midori, Julia Ann, Amber Lynn, Nikki Hunter, Debi Diamond, and Keisha.
Lisa Ann, a star performer during the Golden Age of Porn in 1980s, recently returned to the industry for her award-winning role as Sarah Paylin, and as a regular MILF empress. The actress closed a successful talent agency to concentrate on filming and directing. "I didn't really expect my career to take off like it has in the past three or four year," she says. "I'm at this point where I've got a few years left and I really want to make the most of it."
Hard Times Can Be Good Times
While most traditional porn took a major hit when the economy tanked, MILF porn was able to maintain its steady—and growing—niche. At a time when the adult industry began to rely more and more heavily on celebrity sex tapes, TV show parodies, Brazilian drag queens, and Asian nymphets for fiscal survival, profits continued to pour in to the studios from the MILF legends with their younger lads and lasses.
Perhaps a clue to the MILF genre's ongoing popularity lies in some of the titles:Momma's Boy, The Mommy Experience, I Want to Cum Inside Your Mom, Mama Likes It Big, Momma Knows Best, Moms Gone Wild, Hot Moms In Heat, MILF Worship, Mommy Likes It Black, Wanna Fuck My Daughter—Gotta Fuck Me First, Mommy Issues, and Mommy Loves Salami. There's something for everyone.
With its 2010 win, one of the most treasured MILF series, Seasoned Players, has earned actor-director Tom Byron the AVN Awards for two years in a row. If you want to know what the gold standard of MILF porn is, this series—which features such legends as Lisa Ann, Ginger Lynn, Raylene, Kelly Nichols, Teri Weigel, Amber Lynn, and the incomparable Nina Hartley—is it.
"Seasoned Players is my baby," Byron told AVN Magazine. "To get recognition for it is great, but to win Best MILF series back to back is just awesome."
It's Unconditional, Stupid
Whenever the MILF fad is mentioned, there's always talk about sexual peaks in biology, the younger guys hitting their stride in their late teens or early 20s and older women in their early 40s (sort of like Mrs. Delta and myself). A few years ago, AARP released a study that said 34 percent of all women ages 40 to 60 were dating younger men. Who knew?
All this Mommy talk has its basis in facts, according to Dr. Betty Dodson, the famed sexologist and author of Sex For One: The Joy of Self Loving and Orgasmic Women. "Most young men just naturally love their mothers. After all, it's the first love affair they experience. And the titty dinner they get during breastfeeding is enduring. Those men who were bottle fed end it up tit obsessed. A mother's love is unconditional. She loves you no matter how fast you come or how fucking dumb you are."
Mick Farren, legendary sci-fi novelist and cultural observer for AVN Magazine, agrees. "It's classic. It's as least as old as Oedipus and his mom. It's Dustin Hoffman's choice in the movie, The Graduate. Who would you want to fuck: Katherine Ross or Anne Bancroft? The answer is both. And there's the other side of the coin: It's older women getting some vigorous youthful dick."
Currently, MILF porn flicks are going through a series of offshoots in various categories and configurations, no longer catering solely to males, but to female as well, gay and transgender demographics. As Nina Hartley concludes, "The Boomers will continue to dominate the culture until we're all dead. It's the bulge in the python metaphor. As we age, we'll keep sex front and center. Sooner or later, there'll be 'Geezer Porn,' I'm sure!"