Promotions Select FREE gift when your order is over $39 in tryfm.com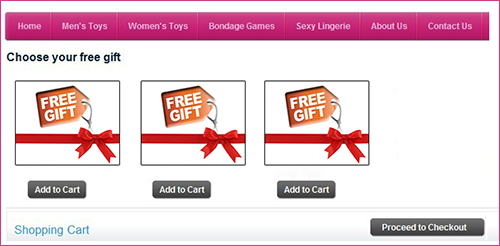 When you get to the "Shopping Cart" page and the order amount is over $39, there is a "Choose a free gift" function on the top of the "
Shopping Cart"
 page. 
Here is the illustration for you:
Note:
1. You can see that there are several free gifts for you to select, but only ONE free gift can be select for each order.
2. The free gifts display automatically in the "Shopping Cart" only when your order amount is over $39)
3. The free gift need to be "Add to Cart", if not, the gift will not send along with your order.
Present In Stock Gifts:
soft ball gag    
 Nipple Clamps  
mask 
Smallest Wand  
vibrating ring